About Chasing the Stigma
Chasing the Stigma is a multi-award-winning national charity that is committed to normalising mental health. We make it easy to find help through the Hub of Hope support app, we create an environment of understanding through our Ambassador of Hope training, and we campaign for change, every day.
Chasing the Stigma was set up in 2016 by Liverpool comedian, Jake Mills, following his own suicide attempt in October 2013. Jake realised when talking through his own personal experience that many people didn't know where to turn for help with their own mental health issues, so he and his team created the Hub of Hope – an app to bring together all the mental health support available to someone in any given area, creating a clear pathway to support.
About the Hub of Hope
The Hub of Hope is the UK's most comprehensive mental health support signposting tool, with more than 9,000 services across the nation listed. It allows users to find help available locally and nationally to address a range of mental health concerns including anxiety, depression, trauma or PTSD and their causes, such as loneliness, financial concerns, abuse, gambling, or addiction.
The Hub of Hope can be downloaded from the App Store (iPhone) or Play Store (Android) or accessed via www.hubofhope.co.uk. For those who need immediate assistance, it has a 'Need Help Now?' button that connects users directly to Samaritans helpline or SHOUT's messaging service.
As well as being free to use the Hub of Hope is also free for local services to register to be listed and local community groups, charities and support services are encouraged to add their service by completing an online form: https://hubofhope.co.uk/register-your-service
Since its launch in 2017, the Hub of Hope has directed more than 350,000 people to life-changing and lifesaving help and this number continues to grow through our extensive partnerships, like the one we are proud to have developed with [shopping centre] and NewRiver. The app is used as a signposting tool by NHS Trusts across the country, nhs.co.uk, HM Government, Network Rail, the Association of Mental Health Providers, the Centre for Mental Health and many more.
About the 'Ambassadors of Hope' Training
More than 17,000 people across the UK are now trained as 'Ambassadors of Hope', including 4 staff members at Merlin's Walk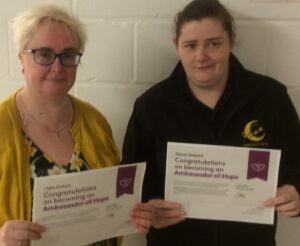 – part of the 130 staff members from across NewRiver's community shopping centres and head office in London to be trained in March 2023. The 'Ambassador of Hope's' concise 45-minute sessions empowers people to look after and speak more confidently about their own mental health, teach them how to respond to someone experiencing a mental health crisis, help them identify those who may be struggling, and signpost people effectively to help and support, using the Hub of Hope app. The training aims to foster a true environment of understanding around mental health, in the workplace and beyond.
Find out more: www.chasingthestigma.co.uk